The Storytelling evening "THE BEAR"
Meeet-Mitte: Friday, 23.06.2017 8pm (please find the German version of this storytelling evening here / die deutsche Version dieser Ankündigung ist hier):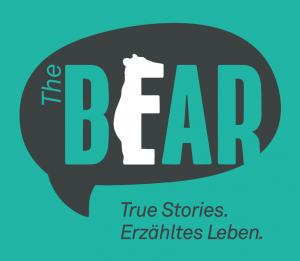 The Bear – True Stories.Erzähltes Leben.
"The Bear is an incredibly inspiring, moving, funny, delightful evening."Khushi Pasquale, storyteller; June 17, 2016
Dessert for the Heart
The Bear is a monthly storytelling contest in Berlin. The stage is open for true stories, told live in both English and German languages. Live music and lively audience interaction give the evening a cozy and entertaining note.
The Bear celebrates the art of raconteur in a world that is drowning in information and starving for wisdom. We come together as strangers and somehow, leave connected by our shared human experience.
Next time on Friday, the 23rd of June, stories about: When worlds collide
Prepare a 5-minute story when your way of doing & thinking clashed with the world. Culture clashes, neighbor bashes; teen anarchy, work hierarchy; unaccepted anatomy, unintended blasphemy; intuition vs. intellect; inner vs. outer worlds; times of explosive conflict that left you gayer and grayer.
"I could have avoided you, but somehow I knew you were a collision worth having." Anonymous

Music Act: Felix Komoll
Felix Kom
oll is a major player in the Berlin guitar scene. His style includes Brasilian as well as classical influences and inspired by his collaboration with musicians from around the world. Listen here.
Termin:  Every third Friday per month, 7:30pm doors open | 8:00pm stories begin
Ort: Meeet-Mitte, Chausseestr. 86, 10115 Berlin Mitte
Admission tickets: General 8 Euro, discounted 5 Euro: Seating is not guaranteed, and is available on a first-come, first-served basis.
Please be sure to arrive at least 10 minutes before the show. Admission is not guaranteed for late arrivals. Make a reservation
Links and further information:
www.thebear-storytelling.de or www.facebook.com/storytellinginberlin
I'd like to tell a story, how does it work?
I'd like to help, what can I do?
Short Video-Trailer from a typical evening.
Thank you Johannes Sylvester Fluhr for camera, concept and edit.

THE BEAR Storytelling Season 2016-2017

Friday, June 23, 2017 -When worlds collide
Friday, July 21, 2017
Die Gastgeber des Abends: Dyane Neiman und Michael Rost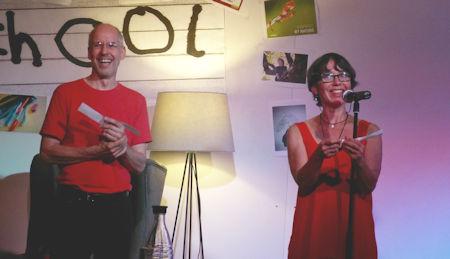 Dyane Neiman, Berlin-based, New York-bred, is the business owner of Moving Speaker and the founder of the non-profit storytelling organization THE BEAR. She collaborates with people who want to spread ideas and make messages stick. Dyane is an expert in communication that moves people physically & emotionally. She has been literally moving people all her professional life. As a former award-winning choreographer and director, Dyane moved audiences with her signature style that included "wit, humor, and self-irony" (Handelsblatt).
Dyane is dedicated to inspiring people from all walks of life to discover the power of their own voice and their own stories to move audiences to action.
"… one thing Dyane Neiman never is: boring!" Westdeutsche Allgemeine Zeitung
Get in touch: dyane@thebear-storytelling.de
Michael Rost our regular co-host, is a native of Bremen, who fell in love with Berlin and its stories a long time ago. He turned his passion into a profession, and when he is not on stage at The Bear, he is making stones talk as he fascinates people about Berlin in his tour guide business Berlin Erkundungen.
Get in touch: press@thebear-storytelling.de
Banner: Titelbild/Banner: ccO public domain von stevepb via pixabay, pictures: Johannes Sylvester Fluhr, Michael Rost, Portraits Neiman, Rost: private, used with kindly permission