How to make your powerpoints less s**t
Meeet-Mitte, Monday, 1st of  April 2019,  6:00-7:30PM:
This is comedy training
But this isn't comedy training so you can get on stage and tell jokes. This is so you can have a joke with your boss, make that stone-faced client finally laugh, or write better passive aggressive notes on the work fridge!
Over 90 minutes "How to make your powerpoints less s**t" will teach you some of the key principals of stand-up comedy that apply directly to presenting and pitching in companies.This workshop taster version of a workshop by Comedy 4 Companies, a business that takes laughing seriously. Started by a stand-up comedian and a facilitator, Com4Com has made comedy accessible to businesses, helping them to laugh more and work better.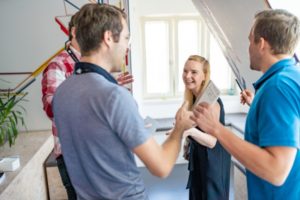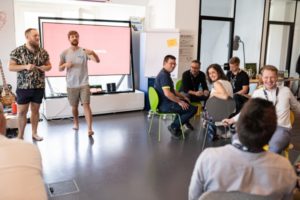 The comedy training workshop is taken by a professional comedian who has learned countless lessons from getting onstage and seen first hand what the power of comedy can do, outside of the comedy club.
You can come on your own or bring a few people from your team – It's gonna be bloody great.
You'll laugh, you'll learn and we'll all go get tattoos later!
Date:  Monday, the 1st of April 2019, doors open at  6:00PM. The evening ends at  7:30PM
Location: Meeet-Mitte, Chausseestr. 86, 10115 Berlin Mitte
Entry: 4,00€ 
For Registration Sign Up here!
Find out more about Com4Com – Comedy for Companies on their website or on youtube.
Photo Credits: Photos used with permission from com4com.