Meeet-Mitte, Tuesday, 22 nd of October 2019, 7:00 PM:
Leadership is one of the major dilemmas of the last few years.
Work is changing, people and markets are as well – and if that's the case then we must assume leadership must change as well. But what happens to leaders that have to deal with that change?
You may be told by HR that you need to evolve – or you might see it for yourself based on how the market is going.
And when you decide to take action, what steps do you take, and how will your team react to it? How high is the risk of it backfiring?
Questions, questions, questions… answers to which can only be given by people who have walked down that way and learned from it.
And those are exactly the ones that will be on stage at this event.
We will have four voices on stage, from four very different markets that all had to deal with their changing role as a leader.
Join us to hear those four different perspectives and engage in a Q&A with us to see what those four markets can gain from each other and what takeaways you will leave the event with!
AGENDA
19:00 – Open Doors
19:30 – Intro and welcome
19:35 – Speaker sessions
20:30 – Break
20:45 – Panel discussion
21:30 – Closing
SPEAKERS:
Sil Boeve – Associate Director Energy Markets at Navigant
Davide Lunghi – Business Development Director at TAG Heuer
Edoardo Binda Zane – Founder and Trainer at EBZ Coaching
Mara Zatti – Senior PR Manager at Babbel
Date:  Tuesday, the 22nd of October 2019, doors open at 7:00 PM. The evening ends at 9:30 PM
Location: Meeet-Mitte, Chausseestr. 86, 10115 Berlin Mitte
Entry: Small fee (voluntary) for the room (4-7€/person)
For Registration Sign Up here!
---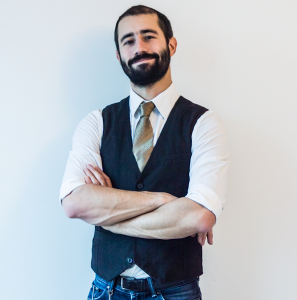 Edoardo Binda Zane, founder of EBZ Coaching is a communication and leadership trainer. He trains leaders, teams, and individuals to communicate better, using skills from improvisation theatre, his own personal management experience, and research compiled by respected external sources.
He provides teamwork training for top-level companies and has developed a parallel career in 7-figure EU project management and improvisational theatre, performing internationally and studying with several top-level schools (UCB, David Razowsky, ComedySportz). He exploits contact points between these realities and uses them to transfer skills between them.
He is the author of two books:
"Effective Decision-Making: how to make better decisions under uncertainty and pressure"
"Writing Proposals: A Handbook of What Makes Your Project Right For Funding"
Photos and Banner used with permission from Edoardo Binda Zane, Picture Leader: Photo by rob walshon Unsplash