Meeet-Mitte, Tuesday, 24th of  May 2018, 6:30 PM
Can you make "new Work" real?
You have heard of Holacracy, of Self-Organising teams, of New Work, but have you actually seen it happen? For real?
If you have, you not only know how rare it is to find, but you also understand what the hardest nut to crack is before you can implement any organizational change: Work-Culture.
Simply put, work-culture means having the buy-in of the key people in the company to put in work, time and effort to essentially destroy the way they work and adopt a different one.
In other words: if you want to redesign an organisation and the way they work, you need to have everyone on your side before you even start.
Not only that – once you have a few good pople on your side, you need to keep them there.
The good news about it is that these two tasks go hand in hand, and once you know what it takes to get it right, creating and keeping the right culture for your company won't seem like an impossible task anymore.
And in this Meetup, we will look precisely at what it takes to get it right – so join us to find out more!
The Trainer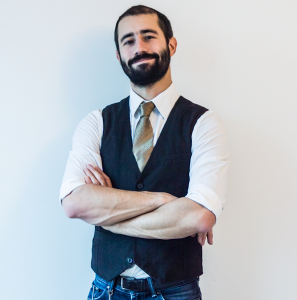 Edoardo Binda Zane is a communication and leadership trainer working with Improvised Theatre and Management Practices.  
He is the speakers' trainers for TEDxKreuzberg and has developed a parallel career in 7-figure EU project management and improvisational theatre, performing internationally and studying with several top-level schools (UCB, David Razowsky, ComedySportz). He exploits contact points between these realities and uses them to transfer skills between them.
He is the author of two books:
"Effective Decision-Making: how to make better decisions under uncertainty and pressure"
"Writing Proposals: A Handbook of What Makes Your Project Right For Funding" 
Date:  Thursday the 24th of May 2018, doors open at  6:30 PM  . Evening ends at 8:30
Location: Meeet-Mitte, Chausseestr. 86, 10115 Berlin Mitte
Entry: Small fee (voluntary) for the room (4-7€/person)
http://www.edoardo-binda-zane.com/
For Registration Sign Up at the Meetup group page
Photos used with permission from Edoardo Binda Zane and Friederike Euwens. Banner public domain via rawpixel.com