Meeet-Mitte, Tuesday, 6th of  March 2018, 6:30 PM
Leadership for New Work Meetup
Leadership USED to be easy!
There was a boss at the top, and the whole organisation was shaped like a pyramid.
If you were the boss, you told others what to do and they had to do it.
That was Leadership , plain & simple!

But now… there is no pyramid anymore….
Organisations are changing, people are changing, work is changing and if everything else is now different, then leadership must also change.
With digitalization happening at a faster pace every day, with new competitors and products jumping into the market, and with a constantly evolving workforce, THIS OLD IDEA OF LEADERSHIP IS OBSOLETE, and we need to bring in leadership styles that work.
In this event, two leadership and organisation experts will take the stage and give you a crash-course in:
– What leadership styles you need to thrive in the fourth industrial revolution
– What skills you need to bring them into your organization
– How to do it
Agenda:
What negative behaviours pressure and uncertainty trigger in people and what we can do about it
What leadership styles we can use to counter those negative behaviours and uplift and motivate the whole organisation
How we can apply those styles consistently and maintain the overall team spirit and motivation.
The Trainers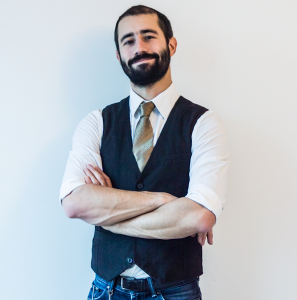 Edoardo Binda Zane is a communication and leadership trainer working with Improvised Theatre and Management Practices.  
He is the speakers' trainers for TEDxKreuzberg and has developed a parallel career in 7-figure EU project management and improvisational theatre, performing internationally and studying with several top-level schools (UCB, David Razowsky, ComedySportz). He exploits contact points between these realities and uses them to transfer skills between them.
He is the author of two books:
"Effective Decision-Making: how to make better decisions under uncertainty and pressure"
"Writing Proposals: A Handbook of What Makes Your Project Right For Funding"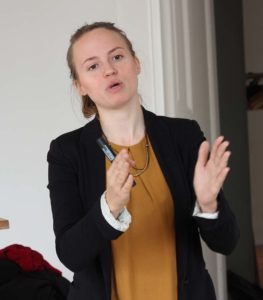 Friederike is a certified trainer and organisational psychologist, and is the director of organizational design of AllesRoger, a company whose mission is to encourage people and organizations to find their own way to a sustainable working world through the transfer of mindset, soft skills and organizational structure.
Her work focuses on the conception and realization of trainings and workshops of new work competencies such as decision-making, self-leadership, effectuation, conflict competencies and communication. In addition she provides process consulting for companies on their way to agile and self-organized work styles.
Appointment:  Tuesday the 6th of March 2018, Doors open at  6:30 PM  . Evening ends at 8:30
Location: Meeet-Mitte, Chausseestr. 86, 10115 Berlin Mitte
Entry: Small fee (voluntary) for the room (4-7€/person)
http://www.edoardo-binda-zane.com/
For Registration Sign Up at the Meetup group page
photos used with permission from Edoardo Binda Zane. Banner public domain (cc0), found at Pixabay