Meeet-Mitte, Wednesday, 12th of  December 2017, 6:30 PM
Better Teamwork!
In this event series we put in touch HR / talent managers and trainers to showcase different ways of building skills. This time, we will be focusing on what it takes to get your team on the same page, and have them actively engage in sharing information with each other and communicating.
Different teams have different needs. Just like different trainers use different techniques. There isn't always a match between a company and a trainer: it can be frustrating and wasteful, and we don't like that. All it takes is for HR/talent managers  and trainers to start talking, to see what the other one needs and to find a meeting point.
The best way to do so is to have trainers show what they do and share some of their knowledge. Talent managers listen and evaluate what works for their team.
In this workshop we will look at how two experienced trainers prepare teams to work better together and support each other under pressure, and we will get a sample of the work they do.
Who is the trainer?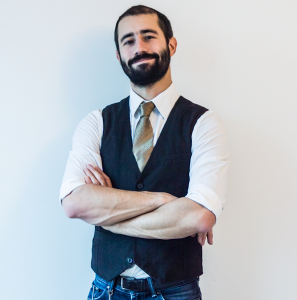 Edoardo Binda Zane is a communication and leadership trainer working with Improvised Theatre and Management Practices.  
He is the speakers' trainers for TEDxKreuzberg and has developed a parallel career in 7-figure EU project management and improvisational theatre, performing internationally and studying with several top-level schools (UCB, David Razowsky, ComedySportz). He exploits contact points between these realities and uses them to transfer skills between them.
He is the author of two books:
"Effective Decision-Making: how to make better decisions under uncertainty and pressure"
"Writing Proposals: A Handbook of What Makes Your Project Right For Funding" 
Schedule:
– 6.30 pm: Arrival and welcome
– 7.00 pm: Introduction
– 7.15 pm: First keynote speech (tba.)
– 7.45 pm: "The trigger of mutual support" – Edoardo Binda Zane
– 8:15 pm: Q&A and wrap up, networking
Appointment:  Wednesday the 12th of December 2017, Doors open at  6:30 PM  . Evening ends at 8:30
Location: Meeet-Mitte, Chausseestr. 86, 10115 Berlin Mitte
Entry: tba.
http://www.edoardo-binda-zane.com/
For Registration Sign Up at the Meetup group page
photo used with permission from Edoardo Binda Zane